The Ministry of Health in an effort to contain the spread of the novel Covid-19 virus made the decision to advance a random screening exercise in the Central Business District.
The exercise took place on Saturday, March 21 and saw a total of 4771 people go through the screening process where their temperature was taken and recorded.
As per figures released by the Nairobi County Health CEC, Hitan Majevdia two of these were found to have higher than normal temperatures with the baseline set at 38 degrees celsius.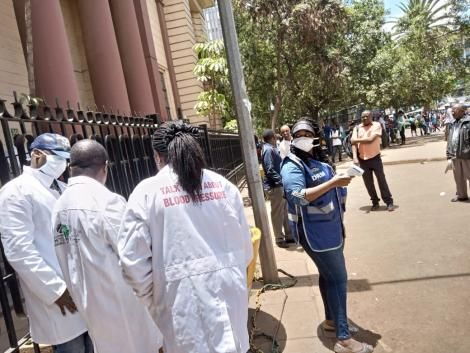 Medics conducting random screening for Covid-19 symptoms at National Archives, Nairobi on Saturday, March 21, 2020FILE
This is 1 degree above the normal human body temperature which is 37 degrees celsius.
The contacts of the two affected persons were taken and the ministry stated it would keep a close eye on them in case they showed further signs of the virus.
The planned exercise targetting three key areas of Nairobi town. This being the area around Khoja Roundabout and the Nairobi Fire Station; around Kencom and Ambassador; as well as the Country Bus terminus and OTC section of the city.
In these locations, the ministry was able to screen a total of 3043 adults, 1541 youth and 187 children.
The highest percentage numbers screened were around the Country Bus terminus which cumulatively tested 2660 people. With the lowest numbers registered around Khoja with a total of 748 people screened.
The random screening was ignited by a call to action declared by the Cabinet Secretary for Health, Mutahi Kagwe.
In an address he delivered on Thursday, March 19, Kagwe declared the ministry's intention to launch the random screening process.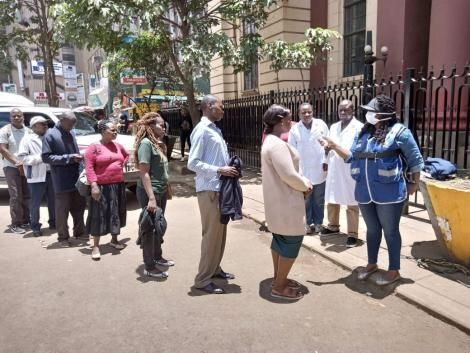 Medics conducting random screening at National Archives, Nairobi on Saturday, March 21, 2020.FILE
"We will embark on random screening in targeted areas for members of the public starting Saturday, March 21. The exercise, that will be coordinated by the Ministry of health will involve other stakeholders such as the Kenya Red Cross, security personnel among others," Kagwe stated.