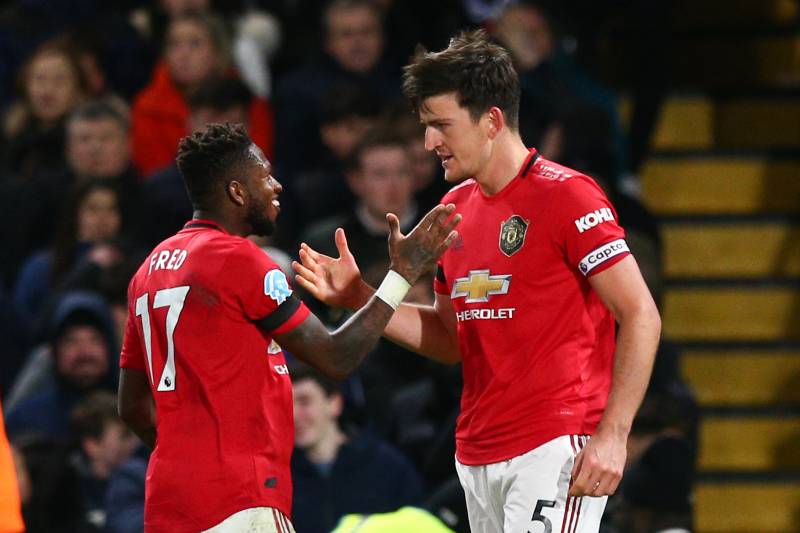 Manchester United beat Chelsea 2-0 at Stamford Bridge on Monday to give their hopes of securing UEFA Champions League football for next season a boost.
Anthony Martial headed the Red Devils in front just before half-time from an Aaron Wan-Bissaka cross, while Harry Maguire sealed all three points in the second half.
The win sees Ole Gunnar Solskjaer's side close to within three points of Chelsea in fourth place, while the defeat means the Blues have now gone four league games without a win.
Week 26 Results
Everton 3-1 Crystal Palace
Brighton & Hove Albion 1-1 Watford
Sheffield United 2-1 Bournemouth
Wolverhampton Wanderers 0-0 Leicester City
Southampton 1-2 Burnley
Norwich City 0-1 Liverpool
Aston Villa 2-3 Tottenham Hotspur
Arsenal 4-0 Newcastle United
Chelsea 0-2 Manchester United
Wednesday, February 19
Manchester City vs. West Ham United
Week 27 Fixtures
Chelsea vs. Tottenham
Burnley vs. Bournemouth
Crystal Palace vs. Newcastle
Sheffield United vs. Brighton
Southampton vs. Aston Villa
Leicester vs. Manchester City
Manchester United vs. Watford
Wolves vs. Norwich
Arsenal vs. Everton
Liverpool vs. West Ham
Premier League standings (Played, Goal Difference, Points):
1 Liverpool 26, +46, 76
2 Manchester City 25, +36, 51
3 Leicester 26, +28, 50
4 Chelsea 26, +7, 41
5 Tottenham 26, +9, 40
6 Sheffield United 26, +4, 39
7 Manchester United 26, +9, 38
8 Wolverhampton Wanderers 26, +3, 36
9 Everton 26, -4, 36
10 Arsenal 26, +2, 34
11 Burnley 26, -9, 34
12 Southampton 26, -16, 31
13 Newcastle United 26, -16, 31
14 Crystal Palace 26, -9, 30
15 Brighton 26, -7, 27
16 Bournemouth 26, -14, 26
17 Aston Villa 26, -16, 25
18 West Ham 25, -13, 24
19 Watford 26, -16, 24
20 Norwich 26, -24, 18